The whole Robo'Lyon team is proud to announce… our victory at the Innovation Challenge!!! After so much effort and perseverance within the team, our goal ended with our victory: we reached the first place on a total of 960 teams in our category and won the prize.
Our innovation project, also called Walk assistant, aims to facilitate the daily life of people suffering from Parkinson's disease. This disease causes the destruction of specific neurons involved in the control of movements.
People suffering from Parkinson's disease and more specifically from the symptom of "Freezing", have difficulty walking… Our innovation allows them to overcome the frequent blockages that immobilize them and prevent them from moving freely.
Even if this year's competition is over, we will improve the existing prototype with the short-term objective of delivering several dozen belts to the department of Professor Luc Defebvre at the University Hospital of Lille, where Professor Jean-Philippe Caron works. Thanks to this, we will have feedback from different people which will allow us to know if we can continue with this progress, and possibly put this innovation in the hands of companies.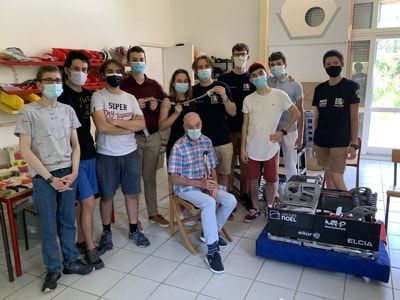 In this project, the CAD design and the skills of the students were essential, but nothing would have been possible without the communication side which allows us to give all its visibility to our partners, companies and populations concerned by this innovation.
Our victory in the FIRST Innovation Challenge gives us the opportunity to make the Walk Assistant known to as many people as possible. The day after the results of the competition, several members were able to go to the Groupama Stadium, where they first presented the innovation project in front of an audience of business professionals. But also our objectives of competition in France and how we will continue on this innovation. These last weeks we have been contacted by UIMM Lyon to present Robo'Lyon to several companies, at the Parilly racecourse. These events give us wings to continue working on the project !
We had the pleasure to receive Gérard, our first tester of the Walk Assistant but who is also the grandfather of two members of Robo'Lyon. We are very grateful to him for volunteering and coming to help us and to constantly improve the prototype through testing in real conditions. We will potentially have a second tester in the future as we have been contacted this week.
On the evening of the results announcement, we were all gathered, eager and filled with apprehension, waiting to find out the winning team of the competition. When the name of the winning team appeared on the screen "Robo'Lyon 5553" it was an explosion of joy for everyone! It made us so proud to get the first place and happy to have gone so far. We still can't believe it… !