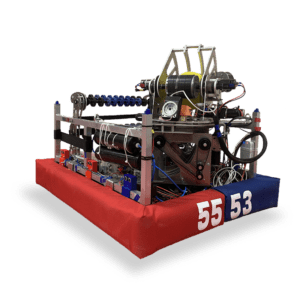 The Scrumtrooper robot is a massive robot. With its 54 kg, it reaches a top speed of 30 km/h, which makes it possible to make the difference during matches against opposing teams.
Its dimensions are 0.70m x 1m x 0.82m, which makes it a Tank type robot difficult to transport during our trips to the United States.
Its mechanism, called "Turret Shooter" makes the ball turn in full flight for more precision. It has a motorized axis and the turret is motorized by a massive bag with two mobile plates that rotate thanks to internal bearings and a transmission chain. Scrumtrooper's gearbox is a Double Neo!
In 2020, we had 8 weeks to design and build it but in 2021 we will have 5 weeks to adapt it to the new rules.
Our goals with Scrumtrooper were to throw balls, pick them up ("Intake") and store up to 5 of them, and to hold on to the "Shield generator": a fixed bar with a telescopic arm made with metal bars and adjusted with 3D printed parts. This arm has a hook at its end, which makes it easy to position and four ropes that leave the hook and wrap around the winch. The winch rotates with a speed reduction of about "37".
A final objective was to pass under a tunnel on the course. We thought that fulfilling this objective would be an asset that would allow us to make the difference.
We designed our robot within the height limit of 70 cm.
Successful challenge at Los Angeles 2020!
The robot's intake has been tested many times to have a safe distance and we decided to rotate it for more precision. Our first attempt was unsuccessful. One of our values being perseverance, we strengthened the system and succeeded.
The part that picks up the bales is called the feeder and is controlled by two rows of wheels. The rotation of the bale can be changed by changing the direction of rotation of the wheels.
Finally, we designed a retractable control panel with a 4 X 2 wheel axis to rotate a large wooden wheel, which was one of the secondary objectives of the 2020 game.